A recent article at DCAT Value Chain Insights (Generics: What is the Next Industry Move?) shone a light on recent movements in the generics space by the MNCs, including  Novartis and Pfizer.
The takeaway? It reads like a rollercoaster ride! Some are divesting, others are acquiring, everyone is restructuring and…well…generics just keep on growing their sales footprint.
Generic Restraint.
Generic medicines aren't without their challenges. The two biggest issues restraining growth include:
Pricing Pressures on Both the Retail and Manufacturing Fronts.
In general, generics are facing retail drug price erosion. "The drop in new launches given the lack of inspection and approvals by the US Food and Drug Administration (USFDA) amid intensifying competition is adding to the margin worries."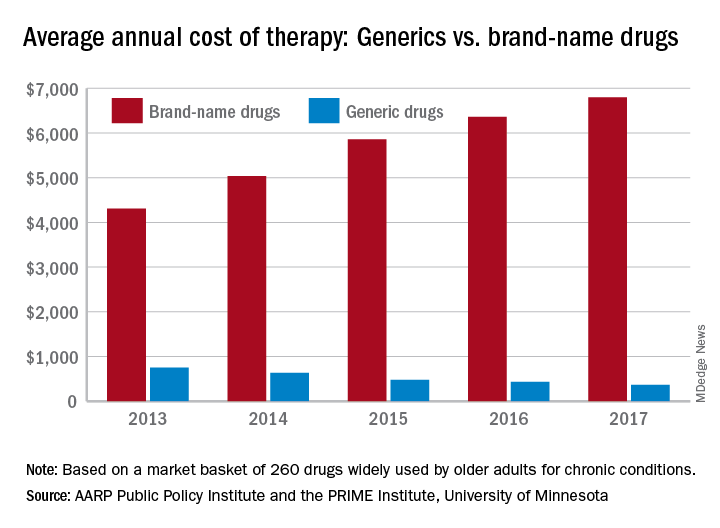 An article at Managed Healthcare Executive explored generic price tags, and shares "For many generics critical to patient care, there are no more savings to squeeze out…If we continue to do that, they will go away. Some manufacturers already produce them at a loss."
The chart (right) from MDEdge demonstrates the continued pricing pressures on generics even as brand-name drugs continue to rise.
For manufacturers, there are also supply chain dynamics at play impacting unit costs for those same products already facing pressure.
Shortages, massive cost spikes, and other weaknesses in the global supply chain – notably for precursors, intermediates and APIs – have become more visible over the last 2 years, and efforts to strengthen drug supply chains have been launched globally.
Product Perceptions / Quality Control Issues.
Despite their clinical equivalence, generic drugs continue to face negative consumer perceptions of quality, product attributes, past use experience and more – all of which influence attitude and the intent to purchase. While penetration and generics acceptance is greater in some regions (e.g., U.S. 90%, UK 85%, China 84%), others continue to see higher levels of resistance towards generic medicines, which slows adoption.
In a post earlier this year on generics penetration in global markets, we shared "[T]he attitude of physicians and pharmacists towards generics still varies a lot worldwide, even between Northern and Southern European countries. In the Nordic countries trust in the quality of generics is higher than that in the Southern countries, with concerns only over their taste, packaging and appearance, since this may affect patients' understanding and acceptance."
Generics: Consistent Growth Trajectory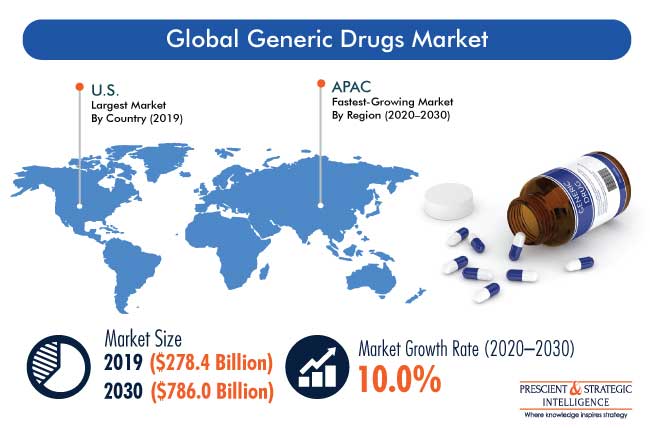 Despite these challenges and the turbulence of M&A, generics are a study in constancy. They continue to post strong annual growth, both in terms of market size as a segment but also as a growing proportion of overall prescribed drugs. Global Generic Drugs Market (2020) highlights that generic drugs saw a worldwide compound annual growth rate (CAGR) of 8.7% between 2016 and 2020. This growth is projected to continue in the foreseeable future.
According to a Prescient & Strategic Intelligence market report published earlier this year: "The major factors responsible for the growth of the market include rising geriatric population, increasing number of patent expiration of branded drugs, surging cases of chronic and acute diseases, and growing R&D expenditure of biotech and pharma companies."
What Are Some of the Top Near-Term Drivers of the Generic Drug Market?
Generics are primed into the future to continue their 'push pull'-driven growth. Regulatory oversight has – of course – been on the rise since the industry first embraced globalization decades ago. It has been on a sloped trajectory, and there is no reason to believe this trend will change. On the other hand, there have been regulatory moves which have strengthened the generics sector. Prioritization of generic drug applications is just one of the latest trends, stretching back to Hatch-Waxman and the launch of the space by regulators.
Likewise, pricing pressures are assumed to be here to stay, though in some cases the bottom may have been reached with certain products or therapeutic segments. And opportunities will lend some balance – whether from new IP or exclusivity period opportunities.